How can I end the adoption?
We are very sorry to learn that you want to stop maintaining your tree, but we understand that there are several reasons that can lead to such a decision. Please do not worry! We will continue to take care of your tree and will offer its future harvest to people that have not adopted so far. If you want to keep maintaining your tree but have a couple of suggestions for improvement, please let us know.
These are your options:
Temporary pause of maintenance. If you still have kilos left from the last season(s) and think they are sufficient, you can pause the maintenance during one season. Important! In this scenario, you bear the risk of a change in the maintenance fee when you decide to start paying again after one season. The maintenance fee is susceptible to price fluctuations in other areas (e.g. costs for water) and might be adapted from one season to the next.
Termination of the maintenance payment. When you decide to stop paying the maintenance fees for at least two seasons in a row the tree returns to us. It will disappear from your virtual garden, we will take away its name plaque and offer it to someone else for adoption, who is in the waiting list.
For security reasons and best practices we cannot cancel your adoption. You have to do so yourself through your user account. This way there will consistency in the date when you decide to end the maintenance.
Steps: Enter your garden and click on your tree that you no longer want to maintain. Below the map of its location you will find a link with the option to quit the maintenance. A couple of minutes later you will receive an email to confirm the cancellation. Once confirmed, you will neither be charged for the maintenance costs, nor will more kilos be added to your tree for the next season. If you follow these steps during the harvest season the cancellation will come to effect at the start of the following season.
Even though you stopped maintaining your tree, you will still be able to consume the kilos that are left from previous seasons during the next harvest season.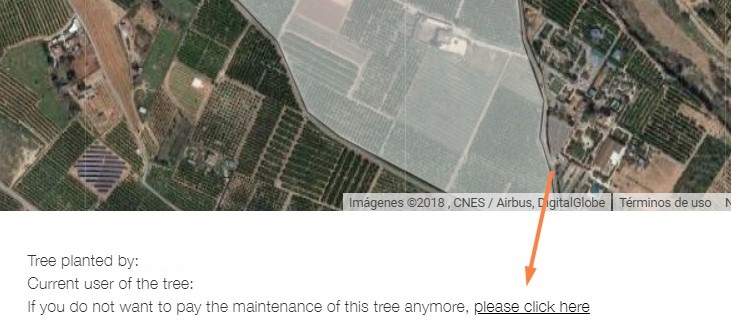 ---