How can I give an orange tree as a gift?
To give an orange tree as a gift, you first need to register a user account at the moment of purchase. You can give any of your trees as a gift except the trees that were given as a gift to you and are maintained by another person. From your virtual garden you can choose an option to give the gift to anyone. The following information is necessary to do so:
Name and email address of the person that you want to give the tree to.
Date on which you would like us to inform the person via email about his/her gift and how to get it. Make sure to indicate the correct date and email address.Usually the email will be sent at 10:00 am Spanish Time (UTC +2h). We recommend you get in touch with the gifted person on the day that you put the date, so that he or she makes sure to check their inbox. ✉
A personalized message with your congratulations will be included in this email (optional).
Check that your payment method is up-to-date.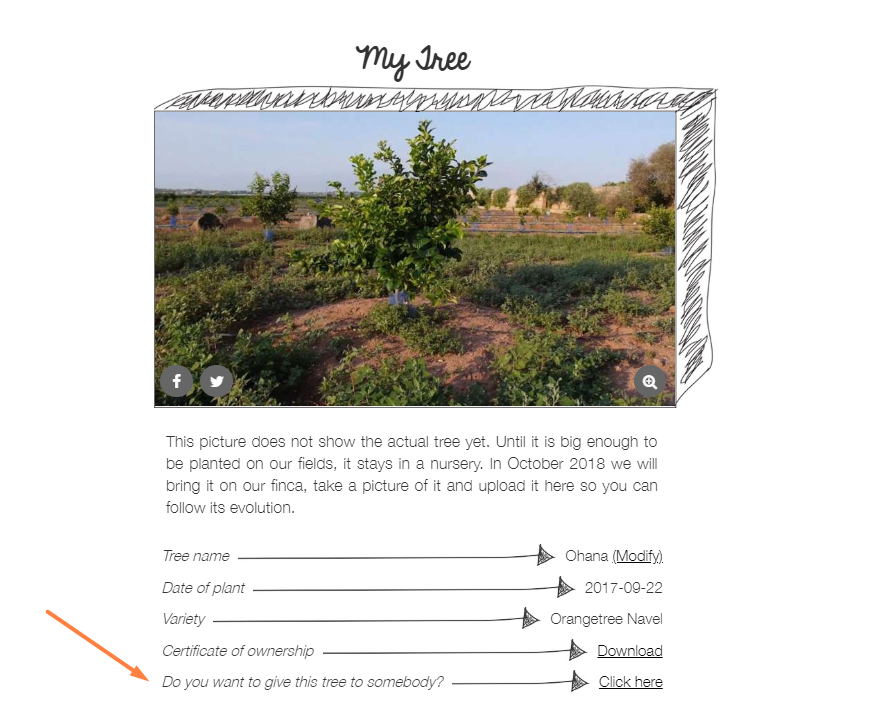 You can give the tree as a gift at any point in time, independent of the age of the tree. There are three ways to do it:
Gift type A: You only gift the tree.
Gift type B: You gift the tree and the annual maintenance costs.
Gift type C: You gift the tree, the annual maintenance costs and the logistics costs of each order. Important! This option is for people that you trust a lot. Each time they place an order from the harvest of the gifted tree, the payment method that you registered when buying this tree will be used to make the payment.
---
---